Our Logistic Services Explained
Blog
20th January 2022
As well as providing courier services, EcoSpeed provides haulage and logistic services throughout the UK and Europe. Logistics is run a little differently from our courier service, so we will discuss in-depth the process and how it can be beneficial for you.
Our logistics process
Initial request
The beauty of our haulage and logistics services is how simple and efficient the method is. We have tailored our process so that it's effective for all our customers, with any stress and hassle completely avoided. Our process begins with a new or existing customer contacting us to transport their goods from A to B. 
Our logistics services can be booked in advance, but what sets EcoSpeed apart is that we can also provide this service to customers who require it last minute. Whether a customer has been let down by their regular supplier, or simply need their goods moved as soon as possible with little notice, we can action their request immediately. Our flexible and immediate support allows us to provide anyone with last-minute transport, due to our extensive network nationwide. 
Choosing a vehicle
In order to choose the most suitable vehicle for transporting the goods, we ask the customer for further details on their requirements – these include dates, times, weight and dimensions of the load. We use these details to calculate which of our vehicles will be the most practical so we can collect and transport the goods without a hitch.
We have a wide range of vehicles on our fleet to meet the most demanding customer needs, ranging from the most efficient of small vans to HGV lorries for heavyweight haulage requirements. 
* We can also supply different body types of each truck size. Which can be curtainside, box vans, flatbeds, HIABs and Moffetts. We can also supply FORS or ADR specialist trained drivers.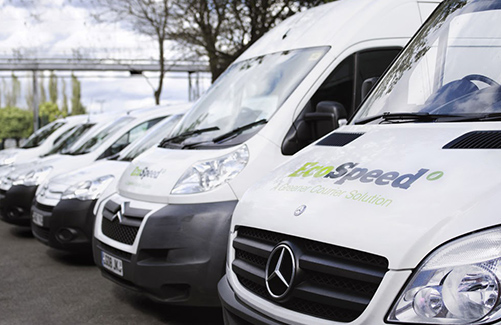 Payment
Now the vehicle has been decided, we then quote the customer the price they will have to pay. The prices for our trucks can be variable depending on market prices. For example, if the customer has a requirement to go from Manchester to London, and there is a London driver in Manchester wanting to go back to London, then he will offer a reduction in price. This information we will pass on to the customer and situations like these are common during peak periods like Christmas. 
Once the customer has confirmed the price, we then arrange the delivery on our system so the driver will have the specific requirements for the job. We pride ourselves on our incredible attention to detail and this separates us from the rest, as we deliver our service exactly how the customer requires, which can often be complex and technical.
Interested in our logistics service and are keen to find out more? Get in touch today!
Greener transport
Our logistics services do things differently from others. We supply trucks and vans to some of the biggest supply chain companies in the UK, all while working hard to be a greener courier solution. We have processes in place to improve technology in our vehicles so they're becoming more beneficial for the environment and reducing the impact of our operations. Some of our diesel vehicles have had their engine management systems remapped so that they reduce their emissions by up to 27%.
Our whole approach to logistic services takes into account the environment at every step of the way, from using recycled paper and green ink for any of our printing, to reducing our energy bills within our office space. Documentation of your logistics order is e-mailed rather than sent by post where possible. This not only helps to save on paper and ink but also helps avoid unnecessary transportation throughout the UK postal system, which has a huge carbon footprint.
Every day we make further steps towards our goal of being 100% carbon neutral so by choosing our logistic service you can be sure that you are reducing your own carbon footprint, reducing climate change and creating a positive legacy for the area and the communities in which we live and work.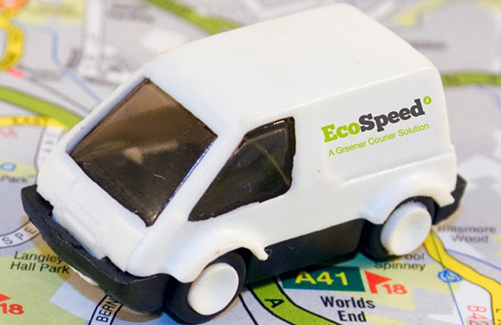 Hiring logistics vehicles from EcoSpeed is no different to hiring any of our other vehicles. Our Manchester offices are ready to help you find the right vehicle for your needs when you need it. To find out more about our haulage and logistics services, get in touch by calling us or sending us an email at info@ecospeed.co.uk.
Online Quotation
Please complete the form below to get a free quotation from us. If you have any questions or have an urgent enquiry then please call us on 0845 021 0213.