Transport Company Manchester
EcoSpeed is a North West transport company, offering green and efficient courier solutions to businesses in Manchester, Bolton, Warrington and the wider areas. 
We have a head office in Manchester, and it's here where we help and find the perfect transport vehicle for you. With a modern fleet of vehicles ranging from 7.5 tonne to 18 tonne, we have the resources needed to transport your goods from A to B in a timely manner, at competitive prices.
Complete transport solutions
EcoSpeed offers full and part load haulage for businesses across the UK, from our headquarters in Manchester. We can pick up from anywhere in the UK, and deliver your goods to the destination on the same day. 
We have an extensive range of arctic trucks and HGV's with different trailer sizes to facilitate effective bulk transportation services, no matter the size of the load.
Based in Manchester, we're situated in the perfect location to head either North or South of the country without hassle, based just a stone's throw away from the motorway. Granted we could face heavy traffic depending on the day, but this is stress you will not have to worry about. Our job is to do the heavy lifting and transport your consignment as quickly as possible.
For many businesses, it's important to have access to a service that offers quick and efficient deliveries. Whether you need to transport legal documents across a city or need to make an urgent delivery to a customer elsewhere in the country, having the option to book a last-minute courier can be crucial. Luckily for you, booking at the last minute doesn't affect the cost!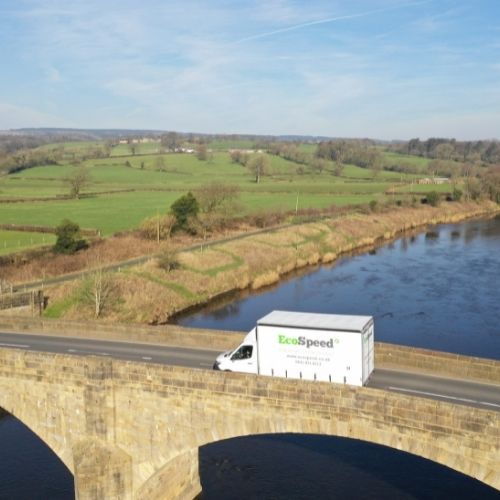 Our transport and logistics services
Hiring a transport vehicle is no different to acquiring a courier motor. We have tailored our process so that it's effective for all our customers, with any stress and hassle completely avoided. Our process begins with a new or existing customer contacting us to transport their goods from A to B. 
Our haulage services can be booked in advance, but what sets EcoSpeed apart is that we can also provide this service to customers who require it last minute. Whether a customer has been let down by their regular supplier, or simply need their goods moved as soon as possible with little notice, we can action their request immediately. Our flexible and immediate support allows us to provide anyone with last-minute transport, due to our extensive network nationwide. 
Why choose EcoSpeed as your Manchester transport company of choice?
As a courier service, our priority is to transport your consignments from A to B within the timeframe requested. We take great pride in ensuring all customers are satisfied with the speed and efficiency of our delivery service.
With the clean air zone coming into fruition this year, we are proud to boast the partnership we had with the Lancashire Wildlife Trust. For a decade, we regularly donated 10% of our profits to ensure local environments are thriving and not decling because of pollution. Our vehicles have had their engine management systems remapped, reducing emissions by up to 27% – another great benefit of our excellent transport service.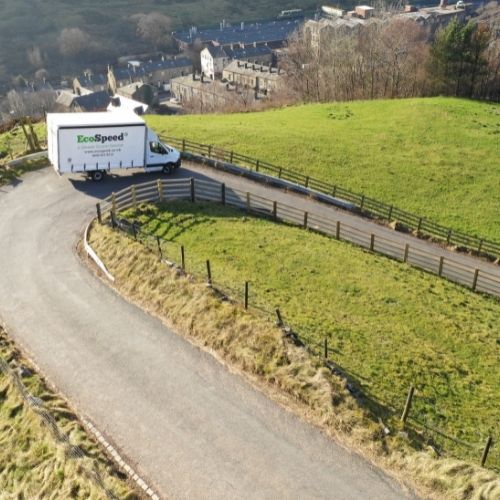 We're a green transport company
EcoSpeed are proud to be a green transport company in Manchester.
Our courier and logistic services do things very differently from the rest, which makes us stand out from the crowd. We consistently ensure all of our customers are satisfied and accompanied with great support from the team 24/7. The approach we take to business ensures the environment is at the forefront every step of the way. 
We use recycled and green ink for any of our printing, to reduce energy bills within all EcoSpeed offices. The team are constantly seeking new avenues to reduce carbon emissions further our vehicles release. So far we have reduced it by 27% and we are hopeful of increasing this percentage in the near future.
As well as having an office in Manchester, we have one based in Bolton that is also a carbon neutral logistics service. We take great pride with ensuring our services in any office are environmentally friendly, and this is a standard we consistently maintain.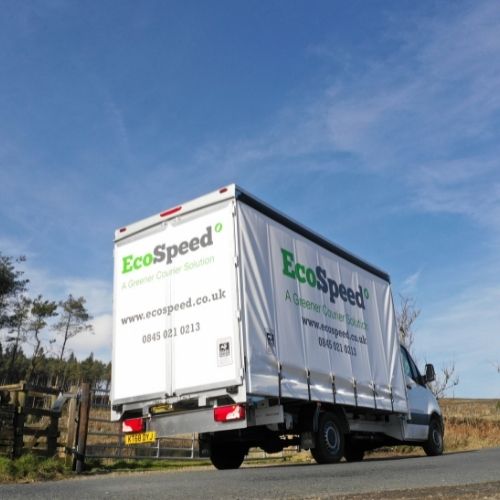 Book your consignment today!
Looking for a reliable transport company in the North West? Get in touch with a member of our team today to grab a quote, and they will help you through our booking process. 
Online Quotation
Please complete the form below to get a free quotation from us. If you have any questions or have an urgent enquiry then please call us on 0845 021 0213.