The Best Walks in the Peak District
Blog
28th September 2021
Now summer has come to an end, it only means one thing – winter is upon us! We may begin to lose our precious warmth from the sun, but winter's beauty is arguably equally magnificent. The weather carries on its natural cycle of transitioning from hot to cold, and then all of a sudden the environment changes.
As many trees lose their leaves, the forests and other woodland look completely bare. The lakes which once embraced our glorious sun's rays, have now become a solid sheet of treacherous ice. The ice may glisten during the sun's hours, but at night the moon illuminates the glacier – adding mystery to the scenic area.
If you're eager to discover and journey through the vast Peak District this winter, then be sure to wrap up warm as it's going to be a cold one!
Mam Tor Walk
Overlooking the village of Castleton and one of the most famous hikes in England, Mam Tor Walk is massively praised for its stunning views of the Peak District and it's commonly known as the shivering mountain. This hike is relatively easy as it's only 3 miles long so it will only take a couple hours to complete.
The trail follows a stone path all the way to the top of Mam Tor, making it easy for hikers to follow and also families who are looking for an afternoon out in the Peak District. Dogs are welcome during the hike too, but we encourage you to keep them on a lead in case they don't run off in areas they are not permitted in. 
When you reach the top, you can't help but admire and take in the beautiful views, so we strongly advise you to capture lots of photos and videos of the scenery. However, while we suggest you spend as much time as you like at the top, campfires and BBQ's are strictly not permitted, and everyone is encouraged to pick up any litter as keeping the land in top shape will ensure the survival of this beautiful area.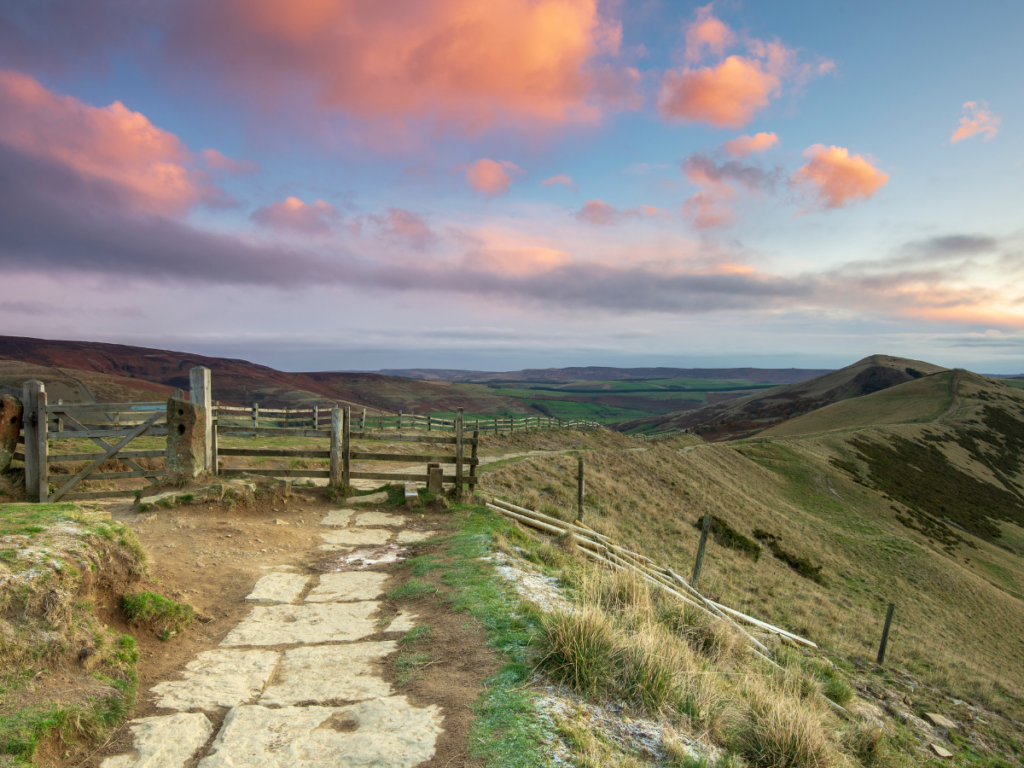 Stanage Edge Walk and Bamford Edge Walk
If you're feeling adventurous and are looking for a challenge, then look no further than the Stanage and Bamford Edge walk. This viscous walk boasts a 10.5 mile walk, so if you're a beginner – be prepared for a long day! Make sure you pack plenty of snacks and warm drinks because if you decide to embark on this journey this autumn/winter, it's going to be a chilly one.
Although the distance of the walk may seem intimidating, you shouldn't be put off because the glorious views make up for it! We highly recommend going during all weather seasons as it's a guarantee you will see what true nature looks like. When you arrive at Stanage Edge you will see why it's one of the most impressive gritstone escarpments in the Peak District. 
When you walk along the edge you will notice the marvellous landscape which has become so iconic to the Peak District, so we encourage you to capture as much imagery as possible as this scenery is one you don't want to miss! After hiking to Stanage, you will then cross the moorland onto Bamford Edge where you will witness the astonishing Ladybower Reservoir.
The final stage of the hike takes you through charming meadows on your way back to the start.
Ladybower Reservoir Walk
Situated in the stunning Derbyshire countryside, the Ladybower Reservoir has some of the best scenic views and it arguably has the best panoramic views in the Peak District! This walk is perfect for beginners as the pathways are mostly flat, so if anyone in your party has a pushchair/wheelchair then this will be more than ideal for them.
If you embark on this walk during the summer we can guarantee you will be treated to a fine summer's day, as you'll see nature at it's best. The entire area will be filled with extraordinarily brightly coloured flowers – an ideal day out for the whole family. Along the walk there are many picnic areas too, so if you fancy a rest to hydrate and have some food you're more than welcome too.
Also, if you're a proud hiker and are looking to appreciate nature, then we suggest you visit the reservoir during the autumn/winter months. Observing the area in this period is beyond fascinating, as you will see the land at its most vulnerable and if it snows then you're in for a treat. The snow adds to the incredible landscape and heightens the already stunning view.
ladybower reservoir Pea District pic.twitter.com/e0B2e4b1Fo

— Micky 🇬🇧 (@Forest1865Micky) September 23, 2021
Three Shires Head Walk
If you're after a low-level walk in the Peak District, then the Three Shires Head walk is perfect for you. Your journey will begin in Gradbach and you will follow an 8 mile route all the way to the Three Shires Head, which shall only take you 3-4 hours to complete. This is one of the most iconic places to visit in the Peak District as it has a waterfall walk, and if you're feeling brave – you can jump in!
If you're in need of cooling off during the summer, you can enjoy a dip in the pools beneath the waterfalls. Children are also permitted to swim in the pools, but we strongly advise parents to supervise them whilst doing so. The beauty of this walk is that it has a bit of everything – you can enjoy the stunning view of the surrounding area, and you can also appreciate nature at its finest with its exciting waterfalls which capture your attention instantly.
View this post on Instagram
Padley Gorge Walk
Hiking is sometimes not for everyone, as it involves a lot of walking and may not always sound too appealing to teenagers or younger members of the family. However, the key to grabbing their attention is by targeting their inner-child self, and the perfect place for them to rediscover this is the Padley Gorge walk. This walk can be as short or as long as you like – even the full walk isn't too long as it clocks in at 90 minutes (1hr 30 mins).
As kids, we all loved adventure and the unknown! Young adults can jump straight back into this with the gorge walk as in some areas you can jump into the stream and swim – perfect for a hot summer day! If you're feeling adventurous you can even attempt the tree swing, which can be found within 10 minutes of the walk!
If you like the idea of spending the day or afternoon in the Peak District, then feel free to check out any of our fabulous recommendations. If you do decide to challenge one of these exquisite walks, then be sure to get in touch and let us know how you got on.
Online Quotation
Please complete the form below to get a free quotation from us. If you have any questions or have an urgent enquiry then please call us on 0845 021 0213.