The Hidden Ruins Of Lancashire
Blog
09th March 2021
Here at EcoSpeed same day couriers we're astutely aware of the impact that our industry, like all others before it, has had on the world around us. The progression of technology has made man's footprint on the world larger and larger, with the roads we use to rapidly transport goods around the country being possibly one of the largest and farthest reaching examples to date.
We consider ourselves to be an environmentally friendly courier and logistics provider, and we celebrate the coming wave of carbon free engines and vehicles making its way into the present day, but what about the infrastructure that these vehicles will run on? When the technology supersedes them and we no longer need our roads we think it will be very interesting to see how nature will reclaim them, like it has done with so many structures in the past.
To celebrate this future green reclamation, we wanted to look at some of our local reminders that when left to its own devices, everything returns to its natural state, and makes for a picturesque attraction in the process.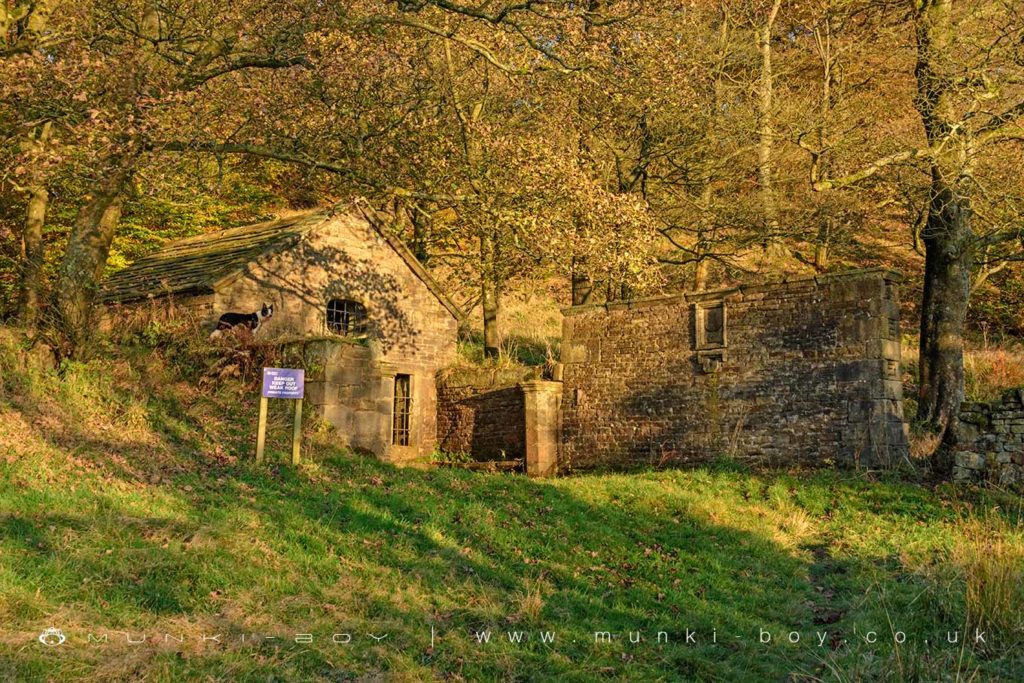 While not strictly a mark of industry, Hollinshead hall still provides the eerie sense that something of former grandeur is not far away from being completely hidden by the sands of time. 
Believed to have been constructed some time in the 1300's, the stone hall neighboured similar large homes in the area. Over a storied past the building was rented, bought and sold by a variety of well off people, including a John Hollinshead in 1761, who shared a name with the building completely by coincidence!
Despite having once been property of the reigning Monarch Charles the first, it was under John Hollinshead's ownership that a large portion of the building was demolished, and remodelled as a smaller, less extravagant home. It remained in this fashion until the end of the 19th century, when it had fallen into such disrepair that it was demolished.
Today only one building stands as a reminder of this former stately home, the well house containing a natural spring that at one time would have been a luxury for those who lived there. Besides this there only remains the stone foundations and lower walls of the main house, surrounded and covered by the green tide of grass and moss reclaiming the site.
While this would certainly be seen as a sad state of affairs by the masons who built the house, for those of us who visit it today it is almost beautiful to see both the age of the stones themselves, and how easily they are recaptured by the land around them.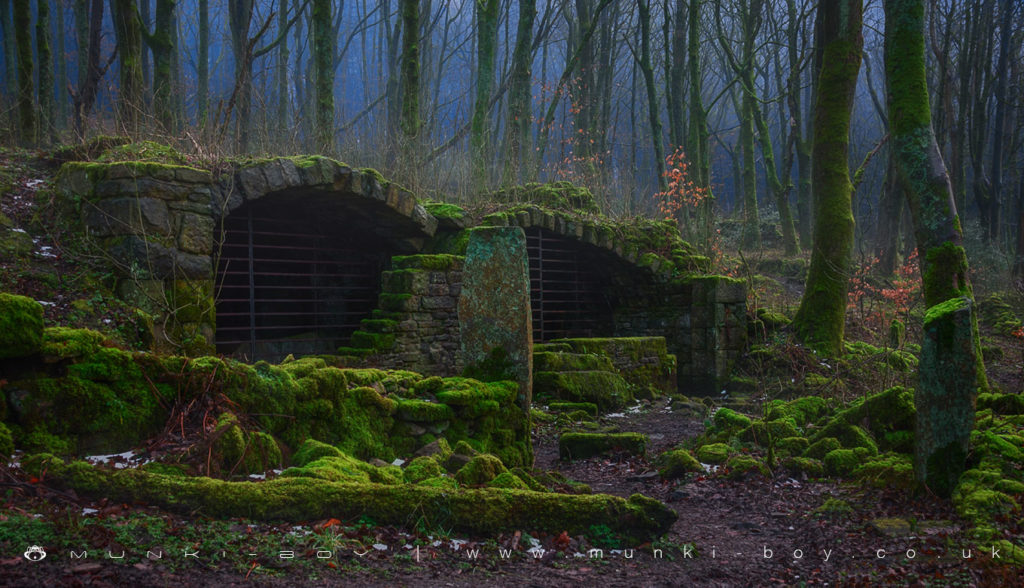 Wheelton plantation, now more commonly known as Brinscall woods, is one of our finest examples of allowing nature to overrun the footprint made by man. Wheelton does have one thing that makes it special however: it was deliberate.
Whilst not a conscious effort to restore local wildlife the planting of Brinscall woods was intended to keep people away. In the 19th century the Lancashire moors were being cultivated to provide more and more water for neighbouring Liverpool. In the mid 1800's there was both a cry for a better quality of available water, and multiple outbreaks of the highly infectious disease Typhoid.
To meet the demand for clean water, and to prevent contamination, the areas where the water was drawn was cleared of all human residents. To make sure no one returned to their former homes, the lands and estates of the numerous manors and farms in the area were planted with thousands of trees, rendering them useless. 
At the time this must have been devastating for those who lived there, as all enforced evictions are, but we are now left with a beautiful landscape that hides ruins within. This unique set of events has provided the generations that followed with a vision into a past century, hidden away and wrapped up with the sense of adventure drawn from being able to find and explore the ruins.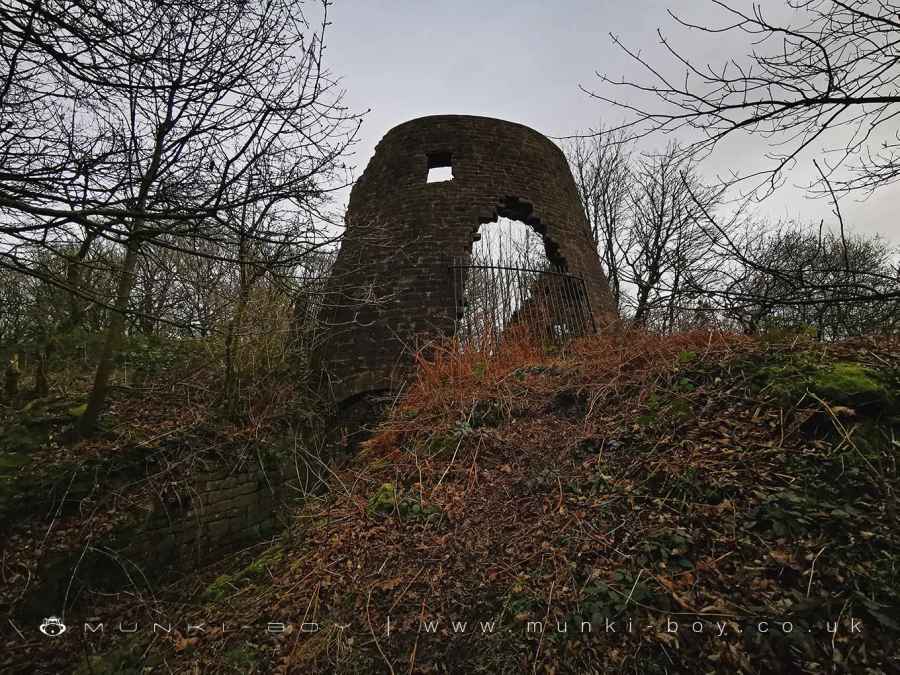 The windmill atop Harrock Hill is an impressive sight, and another reminder of how when industry dries up, the human infrastructure is steadily reclaimed by the land around it. When operational, the windmill will have provided the power needed to grind the coarse sandstone of the local area into Harrock Hill grit, the quarrying of which provided a large portion of the industry for the area.
Little is known about when and why the windmill fell into disrepair, with the only records being maps showing it in use in 1786, and derelict by 1845. Since then the site has been left to the elements, providing an attraction for walkers and a constant reminder of the footprint we leave for hundreds of years to come.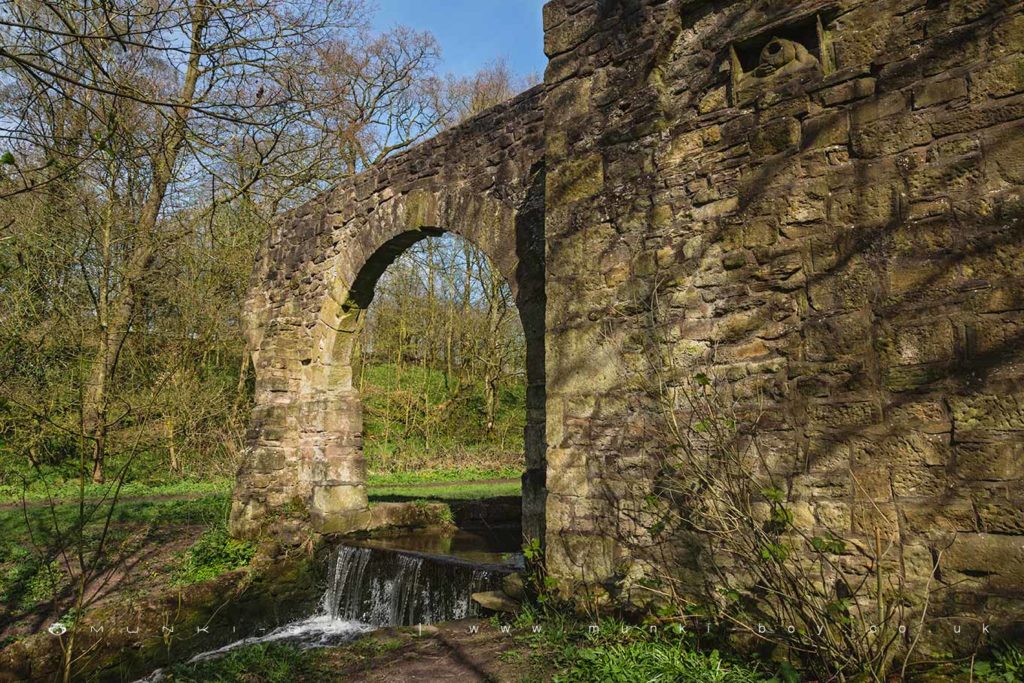 Hidden away in the woods of Leyland is another interesting example of a man made structure, that was deliberately given back to nature. Instead of the impromptu eviction of the residents of Brinscall woods leading to their homes crumbling over time, Worden folly is a ruin by design.
Believed to have been constructed some time in the late Georgian-early Victorian era, the arches and turrets spanning the narrow Shaw brook give the immediate impression of a once great wall left to crumble. The incomplete state of the second arch is believed to have been deliberate, and the lack of any other wall features shows that this was constructed by itself, instead of being all that remains of a larger structure.
We find this particularly interesting as it shows even several hundred years ago there were those who appreciated the beauty of the local landscape reclaiming its territory from human hands, and even today it still makes for a popular attraction thanks to its striking image.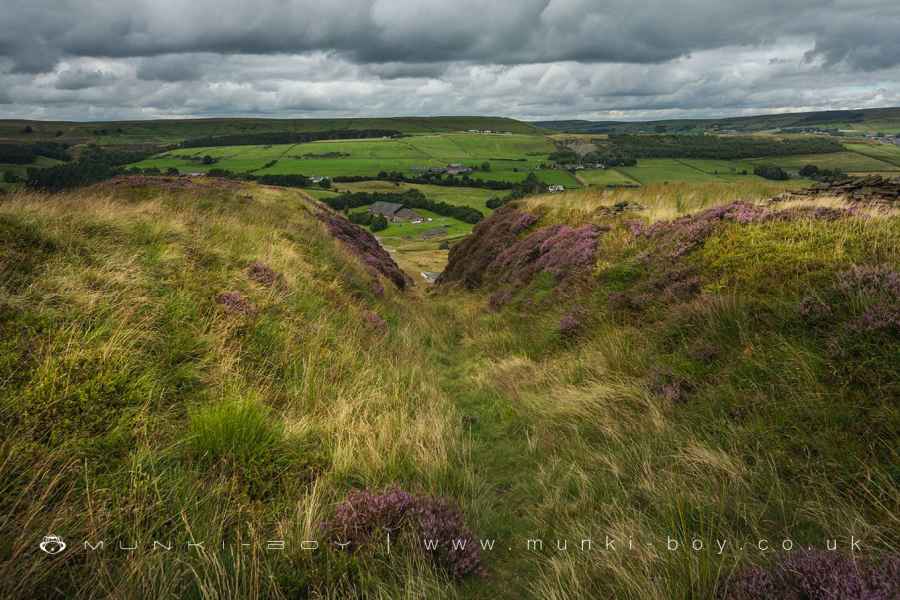 A real sign of nature's ability to repopulate itself where industry had once forced it out is Musbury Heights. The former quarry site sits on the high features of the Musbury valley in Rossendale, and has all the familiar characteristics of destroyed buildings, and some standing structures like the old scrubbing mill chimney. The real gem of the area however are the earthworks that still remain to this day.
Musbury heights once had an extensive tram network, to ferry the quarry's produce down the slopes into the valley. The most recognisable portion of this being the incline leading down towards Haslingden Grane. Where once there were rails and trams, there is now once again greenery framed by the impressive trench cut into the ground by the Victorian navvies.
While for us today it is simply a walking destination, we should still appreciate the effort that must have gone into digging out these giant earthworks, and remind ourselves of the lasting impact it will have on the local surroundings.
EcoSpeed's mission to help return the local landscape to its natural state
Since 2013 EcoSpeed have been committed to becoming a greener courier solution by supporting charities that protect the remaining wild lands around us. While we can appreciate the beauty and even the tragedy of these buildings being left to stand for hundreds of years, we also are acutely aware of how much longer our modern constructions would last by comparison.
To prevent what is left of our local peatlands being drained for new construction we donated 10% of our profits to the Lancashire Wildlife Trust, whose mission it is to buy and maintain land so that developers are forced to build elsewhere.
Not only does our contribution help to preserve the beautiful landscape around us, but also it helps to clean up our air. Carbon offsetting is the practice of preserving or restoring natural carbon sinks to take in some of the emissions your business expels. So far we have managed to offset over 3,300 tonnes of carbon, and we only aim to offset more.
Through this commitment, using our Manchester based same day delivery courier service not only gives you the guarantee that your consignment will arrive on time, but also that it will have gone a long way to helping a truly good cause.
---
Book your consignment today
If you would like to make use of our environmentally friendly courier services then get in touch for your free quote today! Once your consignment is booked our driver will be with you within 60 minutes nationwide, and will have your items delivered within 24 hours. 
Online Quotation
Please complete the form below to get a free quotation from us. If you have any questions or have an urgent enquiry then please call us on 0845 021 0213.